Learn more about Web3
Quote from IHRIM WSR article soon to be published in 1st Quarter 2022 edition
"The Web3 HR platform offers an imminent future consisting of open-source frameworks for modular assembly and composable application development and energy-conscious hosting services for a sustainable future. Current enterprise platforms will be disrupted, and the adoption of new Metaverse style applications and edge computing devices will render existing applications obsolete…and very quickly".
Web3 and the Enterprise Metaverse
As the technology evolves, many people will see Web3 as the Metaverse. But they are two different things, although both are underpinned by Blockchain (or DLT) technology: Web3 is a vision of the future internet and Metaverse is a vision of how the internet will seamlessly integrate into our lives from a personal and professional perspective.
We will come to know the Metaverse as a social instrument (The Social Metaverse), characterised by digital avatars, headsets and virtual reality, and as a platform for the workplace (the Enterprise Metaverse) with communities, open architecture, innovative process improvement, sovereign identity and an enabler of economic development.
From an HR perspective, the Metaverse and associated Web3 technology will totally disrupt the HR software market expected to reach $40 billion by 2025. Not only will the new decentralized Web3 platform force HR software companies to build on a new infrastructure but it will change the fundamental design away for proprietary monolithic structure to an open composable component-based design to accommodate features such as AI, IoT, 5G, Edge Computing, Blockchain interoperable networks and process automation.
How Soon will Metaverse Impact HR?
It is happening now: Contact us at  information@DeHR.org to learn how you can become part of the journey as HR transitions to the new Metaverse/Web3 digital future.
According to a survey of 7,500 working adults across the United States, United Kingdom, Brazil, Singapore, China, and Japan in November 2021, published by Lenovo 44% of Surveyed Workers are Willing to Work in the Metaverse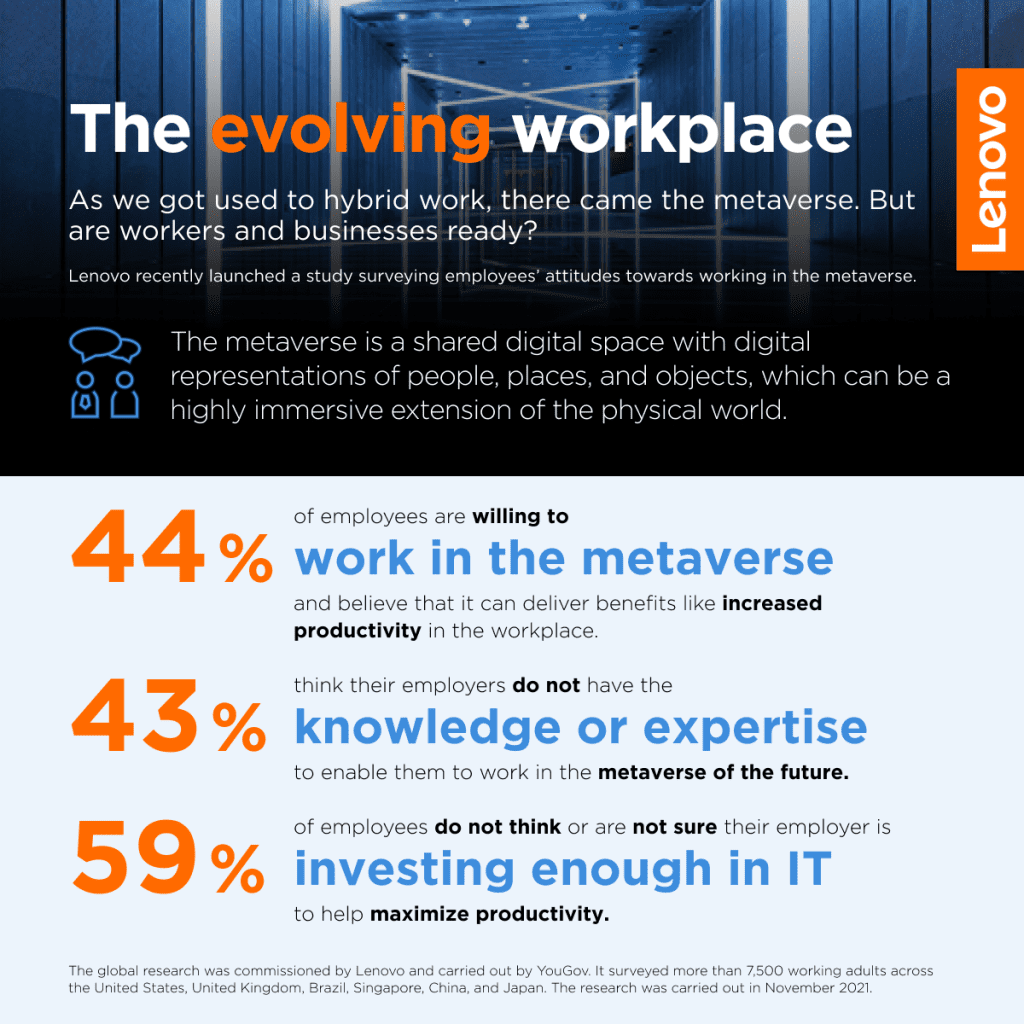 Enterprise Metaverse: Employees Are Ready, Can Organizations Deliver?
Quote from Ken Wong, President, Lenovo Solutions and Services Group: "The pandemic challenged us all to adapt to new ways of work – forcing organizations of all sizes to evolve at an exponential pace. The metaverse presents businesses with new opportunities but also more complex technological challenges, such as the need for more computing power, better integrated hardware, and simpler and more flexible IT solutions."
---
The six main characteristics that define a metaverse are: Identity, Multi-device, Immersive, Economy, Community and Real-time Persistent.
The Consortium for Decentralized HR is the COMMUNITY
Members of the Consortium for Decentralized HR and global blockchain network will be eligible for CET's workforce platform when it becomes available. The platform offers:
Employee data ownership and portability
Compliance with GDPR and the World Economic Forum's Presidio Principles
Ensuring Workplace Safety through the use of plug in devices to monitor COVID-10, including vaccination tracking, Rapid Antigen Testing, and Aerosol Monitoring devices to detect exposure to the virus.
HOW YOUR COMPANY & EMPLOYEES MAY PARTICIPATE IN THE NETWORK
For details of subcommittees please see the Governance section of this website
Membership Subcommittee
The Membership Subcommittee sets the rules for participation in the employee data blockchain.
Membership of the Membership Subcommittee will be by invitation to HR membership associations around the world
In turn, participation in the Consortium by companies around the world is by invitation only from the regional HR membership association. In some cases pre-approval may apply whilst the Consortium is evolving.
In turn, once the approval process has taken place and employee private data currently held by companies has been uploaded to the blockchain employees will be given access to their data and control over the maintenance and access privileges from requesting entities. See the Blockchain App in this website for more details
PRE-APPROVED COMPANIES
A small number of pre-approved companies who are eligible to join the Decentralized HR consortium, and commence uploading their data, will be contacted shortly
If your company is not pre-approved, your HR person or company representative, may contact us to find the HR membership organization in your country or region.
AUDIT FOR TRANSPARENCY & COMPLIANCE ACCREDITATION
To adhere to the Presidio Principle of Transparency & Accessibility platform providers are required to offer an easy to use view into the security profiles of the company owned data platform. Data owners may then understand how their data is being used and for what purpose.
If companies wishing to be accredited for international data exchange or good citizen purposes the Decentralized HR consortium will be providing a service to certify companies based on demonstrating the right technology platform has been deployed and HR data privacy practices are being followed.